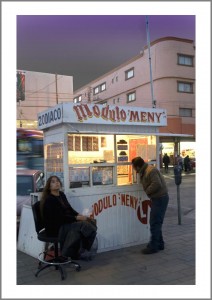 Lote­ria de Juarez, ©Jan­u­ary 2013 by Bruce Berman
The New Juarez.
Every­one is talk­ing about it. A new day, full of new promise. Many acquain­tances tell me of about all the new bars and can­ti­nas. Juarez will rise again.
This morn­ing, Easter morn­ing, two bod­ies were found hang­ing from a bridge in cen­tral Juarez. The vic­tims were young, scruffy, boys with no names.
Hang­ing, like cru­ci­fix­ion, is a pub­lic and humil­i­at­ing death. A death after death, the per­son shamed, ren­dered help­less, pub­licly. This is death with a mes­sage. Read more…