Opinion/Observation
by Co-Editor Bruce Berman
___________________
I drive my old routes. Camera on the passenger seat or my lap. As always, these days it usually stays there, untouched. There are things along the way that spark memories. Object that aren't there anymore. Gorgeous commercial signs constructed by craftsmen in the 1950s and 60s (not the least of which from the Jimenez Sign Company) were carted off to other cities that were twenty years ahead of El Paso in their bourgeoisie ambitions.You can drink under some of El Paso's "Motel, Vacancies," signs in various bars from Austin to Houston to Baton Rouge. There's a withering away now, aging and weathered, but mostly not endearing anymore, not worth stopping for (to make images). There came a year, a month, a day when the treasures of El Paso were either gone, carted off or just left to rot.
There are whole swaths of this incredible and authentic city that are gone, at least for the long gaze of a photograph: Alameda. El Centro (downtown). Segundo is shrinking fast, bordered by El Paso Street on the west (with nasty tentacles of them all over it) and Cotton on the far east, with old residents living out their days, youth getting out fast and them with their bulging eyes all over it. Off of Delta there are condominiums and some revamped industrial buildings, residents living an almost urban lifestyle (sans humanity). Even the Gay Bars have fled, a sure sign of urban renewal/removal.
It's not my job to do anything about any of this. My job, as I saw it, at the beginning, in 1980, was to give face to a face that was not known and I have tried. As The Grid lays out its future in the city with two hearts, it's clear to me that my mission isn't to pick sides in land rights, power exchanges, or to watch -or judge- the inevitable blandification. But blandification has come. Oh happy day. Some loudly exhale and go, finally! The city is becoming presentable to visitors again. It's cleaner. It's newer. There's baseball. Soccer is coming (watch out Chamizal! The final blow that started in the mid 1960s is finally here). There are restaurants with the preface Le with Foo Fo thing-a-ma-jig dishes with little portions of things that look like they squiggle -vegetables- on top of things it'd be hard to identify below. Fancy. Plates of Foo Foo. There are young people downtown again, well, the kind of  young people that look like they'd also be comfortable up in Kern Place on Cincinnati and the upper Westside.
Finally, there's a Starbucks downtown near the Plaza and the Westin. The kids from the 'hood can serve the hipsters that come in from outer Zaragosa Road and beyond.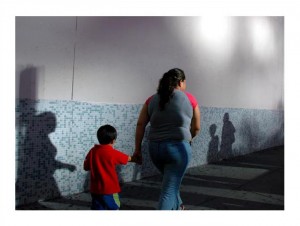 Boring? Not to everyone and I wish them the best. I am not part of this. I left this scene in three other places I lived before this very long stretch here. It's the same message: you're in the gentry or you're equitied out of the gentry.
I don't cling to what was. Maybe that's part of being a photographer. You don't have to. You have the images to serve your past. I do have the photos. They -the people in the photographs-are sweet, beautiful, full of light and color, energy pounding. The people in the photos are the family I created for myself, as least in my mind. The landscape of these people, those weathered signs, the unattended but intact buildings have been my tierra, mi alma.That's where I live now, in those images. It's enough for me. I want to look onward. There is life under the shadows of progress and it always has had a time bomb ticking over it and it has detonated.
If I were an old man I'd be afraid. Thankfully I still have a hundred years of photography to do in front of me. If someone can make photographs of this new age of gentility in El Paso I wish them well. There's always someone that thrives well in this. If you're a photographer you can photograph new groundbreakings or local sports or an accident now and then (although one sees that less these days. Too messy?). You could shoot weddings or parties. Oh yes, there is much to do.
I will snap a few images on my way through here. Not an update of the Border Project work begun in 1980. No these will just be pure records. Facts. Something for the scrapbook of my mind. 4 X 6s just for the bottom of the drawer. I've always hated Before and After photos (Mark Klett's Rephotographic Projectm comes to mind but was always, for me, intellectually rich and soulfully empty. I will not rephotograph anything).
I still have much work to do in Juárez, especially now, after the drama of La Violencia, as the everyday ongoing life of this great city continues to unfold. I have mostly worked in Juárez where that beating heart -in good times and bad- oozes sincerity and authenticity. I've heard it said that photographers are loners. Is that true? Not sure, but I know that I've been alone on these streets for decades and enjoyed it. I wasn't really alone. The people who live the life of the pulsing border have been good companions, allowing me to, occasionally, follow the dance of their lives. For a long time it's been just me and El Paso and Juárez. In 1980 I promised I would try to understand, I'd do my part, I'd pay my tuition in exchange for the opportunity to document this incredible valley. I'm not amazed by the current changes nor am I impressed. I've seen other cities with ball parks and restaurants with hamburgers buried underneath craziness and called Le something or other. I've seen other cliques of intellectuals and artists who got older, who used to scream for the poor and oppressed, who (falsely) claimed their otherness in the most ordinary of ways,who now whisper controlled concern, fooling no one who hasn't been afflicted by over-education. I will take snapshots on the way out this door. Snapshots and experiences and nothing more.
Maybe, just once, I'll try a Le foo foo thing-a-ma-jig dinner in one of the new eateries in the "new" El Centro…er…Downtown El Paso.