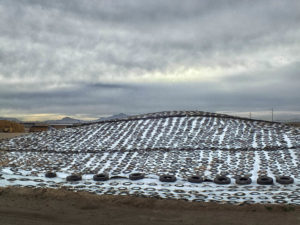 Tire Mountain, Mesquite, NM, Dec. 7, 2016
Where's the border? Where'd it go? Where did I go? I've been cruising out of El Paso and ending myself in Las Cruces, New Mexico, for eleven years now, returning to the border every night. I head back to El Paso in the evenings but the El Paso I know, is slowly, perceptively, emphatically, disappearing from sight.
Juárez is still there. A wave of murder, mayhem and mania  smacked it with deep contusions for a few years. Juárez survived. Its heart endured. Its people are still vibrant and robust, slightly uncivil, real, delightfully rough and raw, a Mexican city that's six thousand miles from the USA, 20 yards away.The border is now a one way street. El Paso is no longer the wild west nor can it delude itself that it's a "bordertown." It is civil. It has thermal green glass, it's got new edges, they're feverishly building highway infrastructure that is a greeting card for mass population -and equity- increase. It has "entertainment (so does Juárez but theater of the street is a little too real for the Grid-makers) and bars and restaurants with weird seaweed pooched up on top of overpriced and scimpy indiscernible entrees.
Both cities are still great. I miss its leper-like bad reputation. If one was less than enthused about the gentrification of America, one could hide in that old bordertown. I did.
No more.
I ply this north-south highway, dance my yo yo dance, living in two cities in two states like a ship that never lands, anywhere, comfortable in the pleasure of yin/yang.
For now.