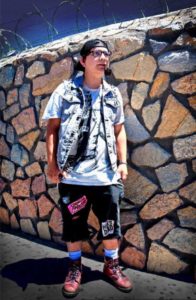 Text and Photo by Bruce Berman
No telling what and who will come over the Cordoba bridge that links El Paso, Texas with its sister city Juárez, Chihuahua.
In this case, crossing from south to north, was Spencer.
Pipe, a hat that said "F___ Off," aged Doc Marten's, punk rock labels every where, Â he is as ecclectic as the border. In a strange way he, is the border: neither this or that, neither Mexican or American, neither barrier nor passageway.
A friend once called the border a metaphor for a person who has "an undefined personality."
Looking at Spencer -and some others (in my mirror!)- I'm thinking it's a place for very defined personalities.
The problem is that it's really difficult to say exactly what they are.
Which brings us back to "undefined."