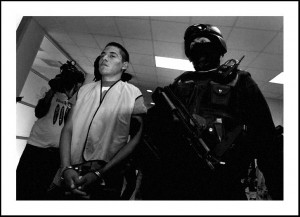 la acusación (perp walk) en Juárez, May 15, 2010
Iasi Emanuel Rodriquez Gamez , aka "El Enano (the dwarf)," 22, is led down a hallway, by a member of the Federal Police at the Ministry of Justice (Procuraduria de Justicia del Estado) in Cd. Juarez, Chihuahua, Mexico.
He is accused of being the leader of a kidnapping gang that kidnapped at least 19 people.  Authorities alleged Rodriguez, 22, took orders from suspected kidnappers Ernesto "El Neto" Piñon de la Cruz and Jesus Eduardo "El
Lalo" Soto Rodriguez. This group is accused of committing 39 kidnappings since December 2008. The "El Lalo y de Neto," gang has operated in Juarez over the past three years.