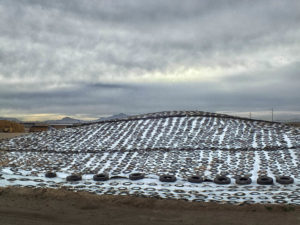 Tire Mountain, Mesquite, NM, Dec. 7, 2016
Where's the border? Where'd it go? Where did I go? I've been cruising out of El Paso and ending myself in Las Cruces, New Mexico, for eleven years now, returning to the border every night. I head back to El Paso in the evenings but the El Paso I know, is slowly, perceptively, emphatically, disappearing from sight.
Juárez is still there. A wave of murder, mayhem and mania  smacked it with deep contusions for a few years. Juárez survived. Its heart endured. Its people are still vibrant and robust, slightly uncivil, real, delightfully rough and raw, a Mexican city that's six thousand miles from the USA, 20 yards away.