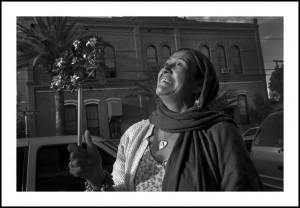 Angelica, Segundo barrio, El Paso – Oct. 18, 2010
EL PASO –Angelica Alvarez. A true believer. A believer in her faith. A believer in a better day. A believer in joy.
I noticed her as she worked her way down the street, engaging every person that she encountered, leaving each person she talked with a smile on their face, enthusiastically waving goodbye to her, they no longer strangers.
I followed her.