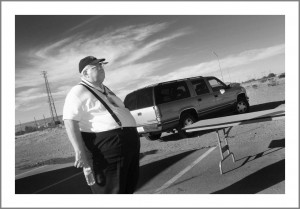 V.I.P. at Robo-Geek Fest, El Paso, Texas
all photographs by Bruce Berman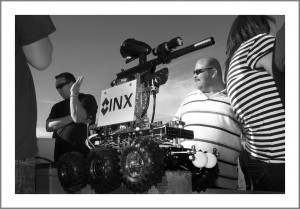 Robots at Robo-Geek Fest, El Paso, Texas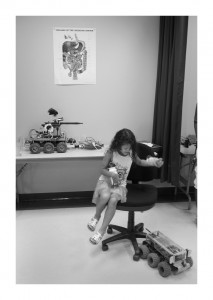 Robot attacks little girl at Robo-Geek Fest, El Paso, Texas
Story by Bruce Berman
El Paso —-
Four-wheeled robots wielding paintball guns took over the Western Technical College Northeast campus on October 15, when students from nine area high schools competed in the college's first T-Robo Competition. The students design, program and build the robot vehicles.
The competition was part of a daylong event, which included a Geek Fest with demonstrations by area engineering and technology businesses, as well as Fort Bliss and White Sands.
There was a military flare to the event showcasing various careers in the STEM fields. STEM stands for science, technology, engineering and mathematics. Possible applications for the robotic vehicles would be non human operated military vehicles or "drones."
The high school students designed, programmed and built the robots, which maneuvered around an obstacle course built by Western Technical students. The course, a simulated game field, presented tasks and challenges, including climbing up and down a rock "mountain," and driving into an enclosed building and firing their paintball guns. The competition pitted high school teams against each other and the "race" was timed to determine the winners.
Each robotic vehicle cost $1,500. Western Technical College found sponsors for each school team. The sponsor had their names and/or logos on the robots.
Participating schools include Americas, Burges, Coronado, Eastlake, El Paso, Franklin, Gadsden, Irvin and Socorro.