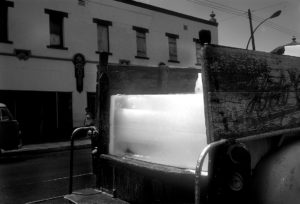 Ice truck, Juarez, 1975
1975.
Ice trucks up and down Avenida Juárez.
Same routine every day.
Go to the municipal ice plant, over by the railroad, buy ice, get it on the truck, head to your customers, mostly saloons.
Get the day's orders.
A half block will usually do.
Get it inside, let the baristas chip it down to cooler-size.
The runoff gutters around the base of the bar take the ice melt away.
Good to go.
All the ice trucks eventually die from a fatal combination of age and rust.
They're all gone.
Electricity. Pumps. Coolant. Noise. Maquinas!
What do the ice men do now?
Where'd they go?
I'm not in love of Progress.
I hate "progress."