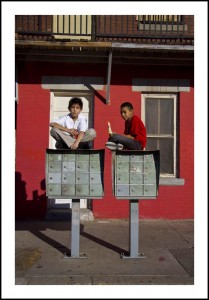 Mailbox Kids, Segundo Barrio, El Paso, 2012
©Bruce Berman
The Shrinking Segundo Barrio
by Bruce Berman
El Barrio, The Segundo, is shrinking.
It's getting the squeeze. The squeeze has been coming for a century or more but it's a full assault now, and a generation that had roots in the 'hood, that was born of a time and place that demanded they fight, is no longer there in numbers and possibly not there in energy and historic resentment.
The neighborhood is being squeezed from the north with the Dreamland Downtown Plan back on Premium and from within. A proposed Science museum in the old Armijo School would be the death blow.
If the deathblow can be delivered to an already dead corpse.
The new housing development across the street, populated by a slightly older and slightly more affluent demographic than previous residents displayed, may have already delivered the coup de grâce by the puntillero.
I think that blow came awhile ago in 2006 when El Plan began and when a generation of political Chicanos, an Army spawned by post WW 2 empowerment and achievement began to fade, to become grandfatherly, and who no longer lived in El Segundo.
However, every once in awhile there is a moment of grace, of epiphany of authenticity.
The Mailbox Kids are that moment.
They don't know the past. They only know their neighborhood and the mailboxes are as good a place as any to spend an afternoon. Sitting on the government's property is probably not what one should do. There must be a law. At least the cops could shoo you away. It is that very act of defiance and obliviousness that draws me to these kids. I seize the moment as if it could be the last.
Because…it could be in the fast disappearing of the authentic Segundo Barrio.