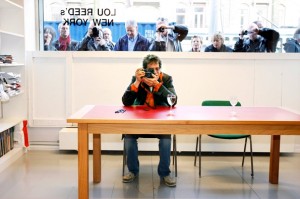 LOU LOU LOU
The News floored me.
It's like New York vanished.
Guilliani couldn't scrub it.
Bloomberg couldn't.
It's your city Lou.
You were the grit and the soul man.
So now it's time to fly away.
"How do you Speak to an Angel" you wrote and asked:
You just say – Hello, hello, hello Baby
Check it out. See you there. Say hi to Andy.
Miss you. The thought of you.
You were always a kick in my pants.
Walk on the wild side.
No doubt.
The great beyond.
Somewheresville.
See you there.
Read more on Lou:Â http://www.rollingstone.com/music/pictures/lou-reed-through-the-years-20120302/lou-reeds-new-york-0842024#ixzz2izX3o2uER.I.P.