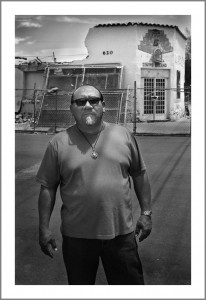 Doroteo in front of the ruins of Centro Chicano
2011 ©Bruce Berman
Centro Chicano gone. Rosas' place gone (goodbye early 19th century, hello Denver to El Paso bus station). Flea market gone (it was so, "messy"). Museo Urbano, barely here and now gone. Koreans on S Street seem to be throwing in the towel, going. Can't sell to Juarenses that aren't there. The bi-national plan rising like a phoenix, unchanged and in better shape than it was (thank you Cartel War).
I know where "El Paso," is right now. Bright New World. Shiny. All's they need is a theme park and it's on its way.
But Chicano El Paso, the turf south of Paisano, south side, El Segundo?
No idea. Quiet and going-going-going gone.
Stay tuned. The Summer of 2012 Chicano Survey has begun.  Custer's last stand or the Beatles' Let It Be? Come on  vatos, check in!
Doroteo, above, came back to the 'hood when he heard Centro Chicano was going down. He paid homage to the place of the great confrontation of the 60s: Mesa and Fifth (Father Rahm, now). The next day, after tis photo, the entire thing was gone and has sat as an empty lot ever since.
There's Bi-national plans and then there's What's the Plan?
And then there's No Plan.