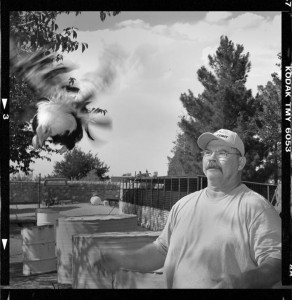 Rooster man of Chaparral, NM – 2008
He has been raising these birds since he was a teenager. Fighters are they, he and his birds.
Now, cockfighting is illegal in New Mexico. Outlawed. "Civility," has come to the funklands. God help us. Now come the thiefs with pens. They been fighting this since Billy the kid.
The rooster man keeps raising his birds. Doesn't know what else to do.
He speaks of the "Old Man," and "Ralph," "Juan Pedro,"and the others. Each has a name. There are hundreds.
When he speaks, he says their names softly, a Lover's murmur whispering his loves' names.