[flagallery gid=8 name="Gallery"]
Protest For Peace at the Anapra, New Mexico/Anapra, Chiahuaha border, Jan. 29.
by Bruce Berman ©2011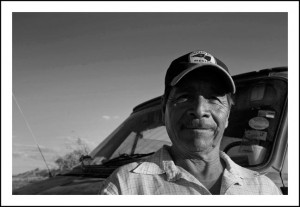 Martin, man of dignity and courage, Lomas del Poleo, Summer 2009
Dear Martin,
I said I would be back to Lomas and I haven't been back in a year now. It's crazy. I drive to work in Las Cruces three times a week and I look to the west and I can see you, I can see Lomas, right there, the flat top mesa poking out from behind Cristo Rey.
No, I haven't been back. I am sorry. Life caught up with me and I had to do my labors, take care of biz, run around like a chicken without a head. And, in the meantime, I have fallen in love with a photo project, far away from here, up in Nuevo Mexico, and I have given it a lot of my attention.
All weak excuses.
I said I'd be back and continue the work we began and I haven't.
You -and sus vecinos, sus compañeros in Lomas del Poleo- are never out of my thoughts.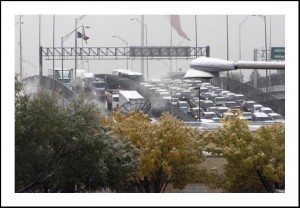 El Puente Cordova, El Paso/Juarez, November 30, 2009
Snow!
A rarity in this no-mans-land.
Hardship. No one is ready for it. Not man nor beast nor domicile. The aftermath will be unnavigable mud on some of the streets in Juarez: there's always a fire from people using heaters they're not used to using;Â  tons of $14.95 coats will be sold on El Paso Street and Stanton Street and the various Fallas Paredes tiendas all over town; car crashes aplenty; you can bet on it. The homeless freeze. Rich people buy juniper logs for five bucks apiece to have their moment of apres ski. Everyone will adapt eventually, but by then we'll be back in T-shirts and shorts; my loft turns to a freezer;Â  life is anew. This is a place of the sun, not really set up for anything else.