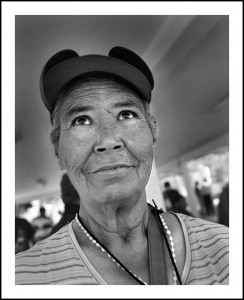 Maria Full Of Grace, from The Other Truth (T.O.T.) series,
Juárez, May 2011
Photo and Text by Bruce Berman
Juárez —
Maria. Full of grace. And other emotions.
A permanent resident of CREAMAC, in the hills of Juárez, way up there, near the Guadalupe, the last place on one of the last streets, near the top. Some people call it an "insane asylum." It started as a place the mayor of Juárez sent "street people."
He took an old police station and created a shelter and ordered the tourist police to "get those people off the streets." That was 34 years ago. There are still people there…from then!
I go there, driving through the anxiety streets of the troubled city, eyes are out, sharp, both ways. These days, if you keep up with the ever terrible news coming from the Cartel War, there's a game you play, while driving in Juárez. You match up news with the locations where it happened, that you've heard about: "Oh, there, that's where the drug rehab place is: 16 murdered in three minutes. Oh…there is where the mother and son got shot. Up that street, that's where the family got wiped out but one kid hid under the bed and survived, yeah, and over there, that's where they put the bomb inside the guy and dressed him as a cop and called in the Cruz Roja and Policia Federal and then blew him up, right there, over by the old market."
And so it goes.
It could go on forever on a long ride, but we race through the streets, purposely. There is no leisure in Juárez, only meaningless purposefulness.
On this day, we're heading to the "Insane Asylum," which seems like a more positive mission than chasing down murder scenes.