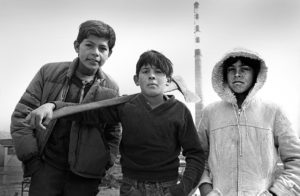 The Wood Gatherers, Juárez, 01/01/2001,
photograph by Bruce Berman ©2017
Editor's note: Excerpt from Walking Juárez, page 8-9
The New Millennium
El Paso/Juárez has never been flat. It is a place of differences. Peeks and valleys. Yins and Yangs. The epicenter of this riddle is found at the river. Even the river has two names: El Rio Bravo/Rio Grande.
This is the early morning of the new millennium,  January 1, 2000, the first morning of who knows what.