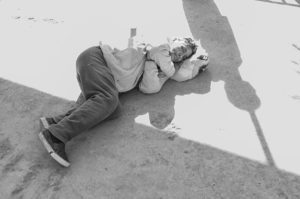 Sleeping lady at CREAMAC, Juárez, 2012
This woman sleeps the sleep of the near dead.
She lives at CREAMAC, a refuge and shelter in the mountainside of the Juárez mountains in west Juárez, México.
There are many different kinds of people in this institution, ranging from homeless, mentally ill, epilepsy and other.
There is little treatment available, unless, the resident gets unruly and then there are injections to completely subdue the client.
There is no industry there, no skills to learn, just time to spend, safe from the streets but not from the various devils that afflict the residents.
Sometimes it's just better to sleep.