PHOTO OF THE WEEK: Feb. 1-Feb. 8, 2008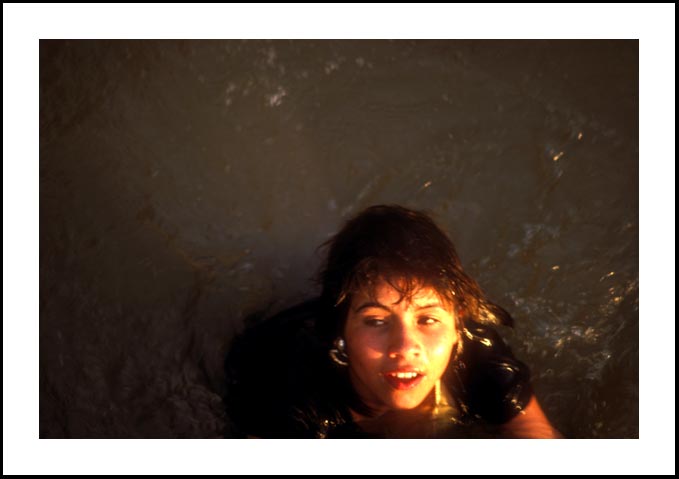 Before the fence, Rio Grande/Rio Bravo, El Paso-Juarez – 1989
Notes from my Journal
Immigration. Swim, drive, and crawl. People do what they need to do and making them do any of the aforementioned things, put lives at risk.
The river is more than a highway of migration, though.
In the summers, when it's hot, the river is a giant pool.
People play.
The river is polluted with chemicals from upstream pesticides from the farms, loaded with garbage and debris, has really tricky currents that, every summer, takes lives.
But people live in that river. That river is life for many in Juarez.
If the Jefes could see past their own little tight plans, this would be THE development that would be right for El Paso/Juarez: Play in the river.
Too simple, though, huh?
This girl is clinging to the El Paso side bank. ILLEGAL! La Migra comes and chases her away and she joyously splashes back to the Juarez side where her friends and family jeer and gesture at the Border patrolman. Everyone is having a good time. The Migra laughs, waves, knows he's part of this great immigration farce, climbs back into his Suburban and drives off and the girl –and her friends- come back, swim to the U.S. side, pose for pictures, live the evening.
The sun sets. I go home. I played in the river, too.
One of the border Patrol's favorite PR releases is about how their agents saved people from drowning. There's one or two or three every year.
They never mention people caught playing. Before the fence.