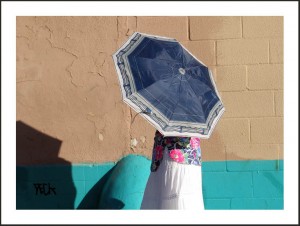 Summer screen, El Paso – May 2009
Summer is here on the border. Hot. You know it's summer when the umbrellas are out. Of course what's in this image is not very "sopisticated." Who walks in the Brave New World, anyway?
This is the old El Paso. The last artifacts of the old way. We're going to be a modern city now. Downtowns with drinkers, capuchinno-istas and Gucci. Commuter trains (with real commuters…working their asses off to keep up with this equity invasion). Developers and their slick rides. Prostitute millionaires and their wives. The population for the next "bubble," is starting to gather, like a virus. Real Ladies don't walk in the hot summer sun under umbrellas. They drive SUVs with big bore AC (ah, the SUV…remember that old City of El Paso slide show…the SUV, young, hip, cool…).
For the first time I really do feel the new El Paso. The traces of the no man's land I have stalked has slowly and surely been withering. I can feel and see what will replace it. Not good or bad. Just what is. The way of things. The journey that made me a refugee back in another era and that brought me here, started and ended with this same grim reality.
My jornado was, always, to just escape. This was a long lasting refuge. I had the best, and have gratitude for the ride.
But, now, its here. A populated, textureless economic engine that thrills and enriches and enslaves and twitches for some and grinds others into invisibility, like corn in a pestle, reduced to powder.
I don't think I have much more to say. My reality of this frontera is in memory and in these images, photographs and notes of the what it was. It was a lot and its a lot to have. No complaints.
But, old El Paso, a place to hide? No existe. No mas.
The hiding place is somewhere else now.
Once again, it's summer here. It comes like a storm and you change your ways. It's starting to boil. Squishy sidewalks. Lots of hoods up on boiled over  cars, the bridge to Juarez and back -always murder- is really rotten now, you see people in the streets coming and going to and from from Juarez and back looking scorched by the never ceasing Sol, at least here, on the south side, on the border that still looks like a border, but less and less every day (to the delight of the Movers and Shakers), the very last of it. I have to wonder, now, how many more summers there will be with the old textures, the color, the two dollar cheeseburgers on Alameda, the glory of the dollar on Stanton Street, and, of course, the pretty umbrellas, the strong hues of the hand-applied paint that advertises and beckons and has defined for me, this dream of a place for a long long time.
Nostalcist? Me?
Oh yeah!
Definitely.
Loved my ciudad de la frontera. Loved it. Loved if for decades. The City State of No Man's Land.
No more. Soon, no more. The Brave New World is here and it sucks.
Now I only work here. Well, hardly here. Stage one of the long flight into the unknown has begun.
I don't hang too much. Take away the umbrellas and I'm lost.Let's face it,  I was just a hungry eye on the streets and when the street has no more candy, I guess we have found how my shallow is my depth. So be it.
As a journalist friend told me a year or two ago, the gravity has moved from this border -which he knew well- to the new and real and sometime horrid real dividing line: the equator countries.
Plenty of candy there, plenty of bad, and, as I think about it, it has been there, only in that, that I have ever found the genuine, unmolded, raw bottom line that smells like truth.
You got to be a cool dude to live in the Brave New World. Even a punk version of it.
It ain't me babe, I ain't what you're lookin' for (thanks Bob).
'ta bien.