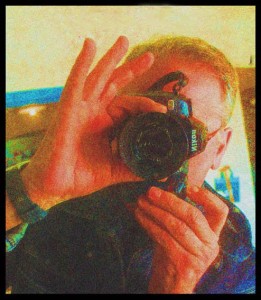 About Bruce Berman
     Bruce Berman has been a professional photographer for almost four decades. He has always worked in what some have called, "The Concerned Photographer," style of photography. His initial documentary projects were in Chicago where he photographed Appalachian migrants to the big city, Black Panthers during the tumultuous 1960's and the gritty street life of Chicago in its Rust Belt years.
     His main work for the past twenty six years, however, has concentrated on the United States/Mexico border, particularly the narrow stretch of land that encompasses El Paso, Texas and Juarez, Mexico.
     After coming back from one of his earliest forays on Alameda Street on El Paso' south side, in 1980, Berman wrote in his journal, "…I have seen a new world. It is both physical fact and mythical idea. It is a place with a line drawn through it and on each side of that line there are metaphoric mirrors that are reflecting back at each other, perhaps distorting each other, perhaps magnifying each other. It is the US/Mexican border. I will make my stand here. I will try to 'give face,' to this place so others can know it, perhaps, even, so those who live in it will know it more deeply."
     The aggregate result of that effort resides in two main bodies of work:  The Border Project: 1985-2007, and Juárez: Cartel War Years (2007-2011) .
     Berman lives and works deep in the borderlands of El Paso and Juárez, three blocks from the international bridge that connects Juarez and El Paso, surrounded by and isolated in the the vast lands of West Texas and northern Chihuahua. He refers to this as his "Beat in the City State of No Man's Land."
     He continues to cover his "beat,"for major publications throughout the world.
     Additionally, since 2008, Berman has added "Professor" to his name. He now teaches photojournalism at New Mexico State University (NMSU), 40 miles north of the El Paso/ Juárez  ports of entry, in Las Cruces, NM. His teaching concentration is on Documentary Photojournalism and multimedia reporting.
Many of his students don't seem to care about the border too much. They just want to enjoy photography. He wonders (and relates to it) if they know the genius of their attitudes or not.
He loves the irony.
About the Website
     The Border Blog covers the news, opinions and culture of the 2000 mile border of Mexico and the United States, concentrating on the epicenter of El Paso and Juarez. The Border Blog is not meant to be a news source as much as it is meant to be a news "feel."
     The site is a collaborative project. Besides Bruce Berman, who acts as editor and photographer and sometimes writer, the staff includes writer and painter, Juarez native and resident, Nathan Zarate, and, Beatriz Andino Zamora, a poet and writer from Zacatecas, Mexico. Zarate and Zamora post occasional articles concerning the politics and history of Mexico, in general and La Frontera, in particular. The site is always appreciative of the creative inspiration, brilliant chutzpah and deep goodwill -as well as extensive Web skills- of Manuel Rivera, a fronterizo "to the bone."
     Contributors are welcome. Diverse viewpoints will be cherished. The site's point of view and orientation will be no mystery to its readers, however, there will always be plenty of room and appreciation for other voices as long as they are informed, well articulated and sincere and fueled by passion tempered by reason.