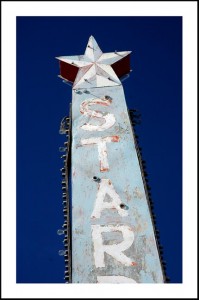 Star No More, Marfa, Texas – March 2009
The West, the American Highway (and the American fascination with it), Funk, ain't what it used to be.
Fine with me!
What's comin' looks bad, to me, when it's new.
It's kind of like the newspaper demise riddle.
Online is what we're doing. There isn't even anything to throw away. Some argue we're all smarter than we used to be because of the Web. We're all reading. Yeah!
Reading?
Skimming.
Does it look like we're all smarter?
When I moved West one of my old friends (I mean he was old I was young) cautioned me: "watch out, there's nothing more dangerous than people who think they know things and never question themselves or others."
But I digress.
Star No More.
Hey, at least it's not plastic.