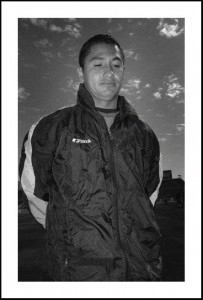 "Maleno," Juarez – March 2009
Juarez, March 13, 2009/ Estado Benito Juarez, Juarez, Chihuahua/Mexico
The Juarez Indios are a professional futbol team(soccer). They are in the middle of the Cartel Drug War. Much of the city of Juarez has rallied around the Indios, finding some "normalacy," in the middle of the troubled Juarez violencia. Julio Daniel "Maleno" Frias is a star of the team, a "striker," a troubled city's hero. The city loves him, he's a hero in the middle of bad news caused by rats. When "Maleno," was younger he joined a gang. He got shot. He decided to change his life and he did. Maybe this is why the city fell in love with him, he's a living metaphor for a city's hopes. Maybe they just like the way he plays: smooth, quiet and intense.
Some players have left the team and others have sent their families back to the cities they came from (some in Mexico, one in Argentina), trying to avoid the touch of violence that has afflicted Juarez, Mexico's third largest city.
The team is struggling to stay in the top tier of Mexico's professional soccer league.
Attendance is sold out.
Futbol is trumping the war.
So far.
Life goes on.