PHOTO OF THE WEEK: Dec. 7-Dec. 14, 2007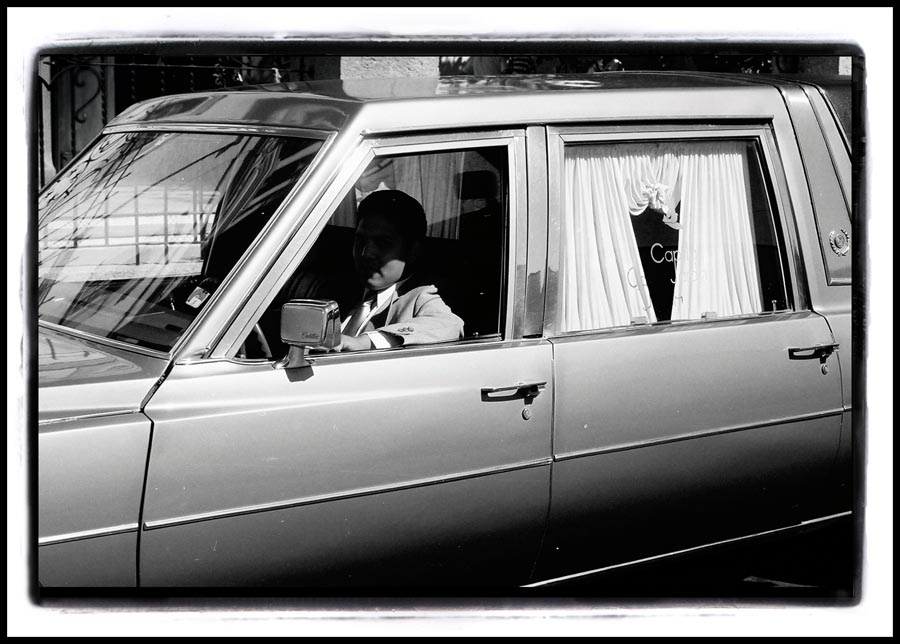 Waiting in Juarez, 2007
Waiting.
It's hard to remember the last time I was waiting for something and not pressured to be thinking about the next stop, the next appointment.
Leisure?
Barely remember that…
Slow time? Time seems to be on steroids, going faster and faster.
So I came across this guy and time seemed stopped. He was waiting for the grieving and the return of the dead to his vehicle. No rush. No hurry to get to that next place.
I lingered.with him, me trying to slow down and he trying to make time pass.
I guess that makes time neutral in Juarez.
I get that a lot in Juarez. Time seems just about right. People are busy, scrambling, dynamic. But it's a different kind of time than, say, U.S. time. Maybe it's that there's no Interstate highway, a concrete spine that expedites the time machine, always speeding things up and simultaneously slowing them down. The more the congestion of speed increases the faster people want to go. More highways! More speed! More congestion!.
Juarez, in many ways, lost in time, in many other ways, it's perfect time.
NST: Neutral Standard Time.
All I know is that I have spent endless amounts of time in Juarez, wearing my anonymity with pleasure. If you live in El Paso, the sister city, separated by the Rio Bravo/Rio Grande, as I do, Juarez is the great life force, the elixir for the mediocrity of a middle size American city, pulling itself apart as one Pied Piper Wizard after another comes to it, promises it life, like a Dr. Frankenstein would, scooping up the spoils and then leaving (usually for San Diego and better climes).
Juarez endures: works and lives, is born and dies, endures. Most all of this is in full view. Right out there, in your face. Take it or leave it.

It's a real city with a heart and veins and blood -pulsing and spurting- and sweat and perfume and amputation and prettiness. There's a pulse, and, sublimely, barely is there a suburb. There are a few malls, but, gloriously, not a Mega mall in sight.
This is a city in motion where time is neutralized.
Sweet and bitter, tough and resilient, a beauty that is deep and requires character to understand, an edgy struggling turf that is un refugio, a refuge, a shelter. Go figure.
Balance. Doesn't look that way.
Is.
If not in Juarez…where?
At least for me.
At least for now.
Que padre.