PHOTO OF THE WEEK: Nov. 30-Dec. 7, 2007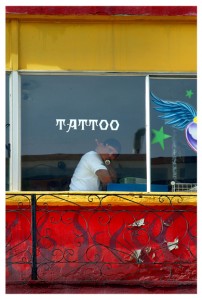 Tattoo, Juarez – 2007
Flying tattoo on the window. That's what I was after. Beautiful.
What I got was the Universal Salute?
Priceless.
He didn't like me? No, I don't get that. I do struggle with why I shoot on the streets. What right do I have, who appointed me? There's some kind of thing I got into my head about documenting and witnessing and leaving the artifact that has driven me for a long time. So I do.
I like the fact that the tattoo-ero sends something back. He's got a right. We all do what we've got do.
So, I get my tattoo in Juarez.
It's not always peace and love out there.
So be it. 'Ta bien.