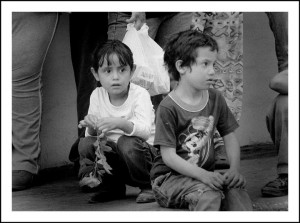 Zaragoza (Juarez), Chihuahua, street kids at scene of a murdered woman, 05/08
©Bruce Berman 2010
Two border towns.
El Paso and Juarez.
One city is half dead and the other is in a coma. Guess which is which?
As always, a trip to Juarez puts everything in perspective and raises big questions. For openers:  We don't have to do all the things we think we need to do, there are worse things than physical death and injury, watch out for what you hear, and, we should never believe anything except what our eyes  feel.
My eyes tell me Ciudad Juárez is alive.
I salute you, injured Madame Juárez.
FOR SLIDESHOW, GO TO NEXT PAGE:
[flagallery gid=5 name="Gallery"]