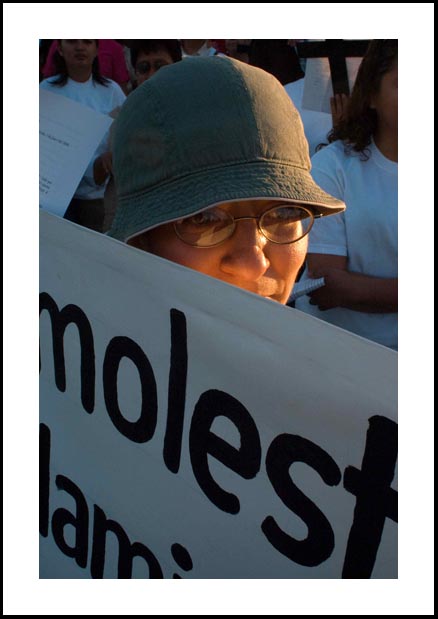 The March against violence in memory of Professor Manuel Arroyo, Juarez, June 3, 2009
Juarez, Chihuahua/Mexico
June 3, 2009
The Megabandera (giant flag) in the Chamizal Park in Juarez is usually the place for joy and pleasure, a meeting place for families, lovers and tourists.
That was before la catástrofe.
The catastrophe.
Before the Cartel War.
Before just being on the the streets was a giant game of Russian Roulette.
Yesterday the Megabandera was the meeting place and launch site for a protest march conducted in the memory of Manuel Arroyo, a professor at the University of Cd. Juarez (UACJ) and social activist who was assassinated on May 29.
The march was to demand justice, in memory of all innocent victims of crime in this troubled and murderous northern Mexico city.
The march started at the Megabandera and proceeded to the international bridge that connects Juarez to El Paso, Texas.
It went without incident, peacefully, muy pacifico and muy triste (very peaceful and sad) and was followed by a return march to the Megabandera followed by a memorial service, testimonials and music.
As a result of the Cartel War, there have been over 2600 murders in Juarez since Jan. 2008 and more than 7500 in Mexico in that time period.
The introduction of the Mexican Army momentarily reduced the carnage but it is now back in full force.
As it was before.